DUI Trial
Vancouver WA DUI Attorney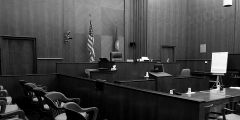 Because a DUI is a criminal charge, you have the right to require the State to prove the charge against you at trial.  In Washington, you have a speedy trial right of 90 days from your first court appearance if you are out of custody and 60 days if you are in custody.  You have the right to have a trial by jury where six members of the public will be chosen to sit through the trial and decide whether you are guilty or not guilty.  Jury verdicts must be unanimous in Washington, which means that all members of the jury must agree on the verdict.  The state must prove guilt beyond a reasonable doubt.
The trial will consist of the State calling witnesses including the arresting officer and a state certified toxicologist to present testimony. After the State rests their case the defense will have an opportunity to call any witnesses including our own experts. You are presumed innocent during the entire trial, if the State has not proven their case beyond a reasonable doubt we may not need to call any witnesses.
We believe that exercising your right to trial is an important part of the justice system, which is why Kris has done over 50 jury trials. Only an experienced trial attorney can give you the best chances at trial andge. give you the best advice of whether to go to trial.
Call our office today or fill out our form to set up a free consultation to talk to Kris about your DUI or criminal charge.